TWIST
A Survivor's Almanac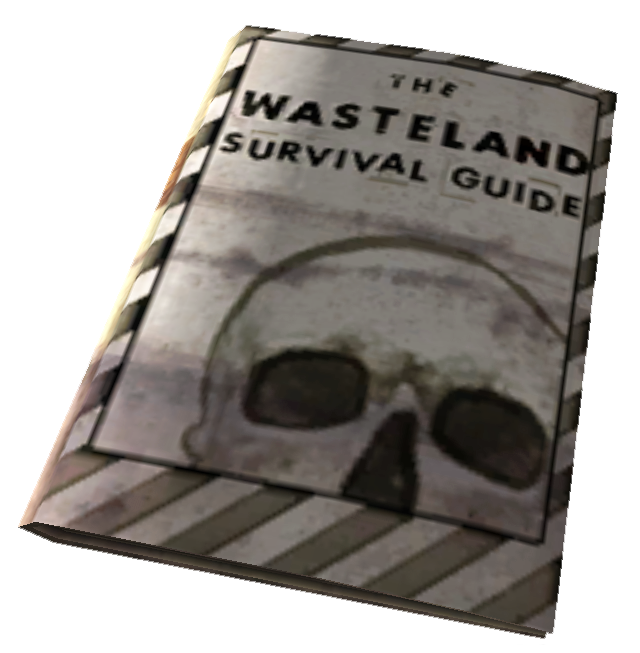 TERRAIN
"THE EARTH WAS A FORMLESS WASTELAND, AND DARKNESS COVERED THE ABYSS." –The Bible
The world's not looking so good these days – frankly, brown and gray just aren't very pretty, but I suppose there's no accounting for taste.
Thousands upon thousands of square miles have been poisoned, scorched, frozen, irradiated, and otherwise left largely lifeless and hostile to unprepared travelers. These are the wastelands, and they cover much of the earth's surface. Temperatures can range from dehydrating heat during the day to sub-freezing cold at night. The vast majority of creatures that have survived in these new deserts are quite dangerous if not outright lethal, as if the environmental dangers were not daunting enough.
In the years since A-Day, much of the residual radiation left over from the bombs has dissipated, but there are still many areas where the level of contamination remains high enough to be dangerous. These areas are commonly known as Badlands, for obvious reasons, and are a kind of highly concentrated and extra-deadly Wasteland. The level of residual radiation in any particular area of Badlands can be low or high, depending mostly on how close one is to the original blast or meltdown site. See WEATHER AND ENVIRONMENT, below, for details on Radiation.
Surprisinly untouched by the devastation that mars most of the world, these rare areas are still lush and fertile with plant and animal life. They generally have plentiful sources of fresh water, and contain some kind of settlement as often as not. However, do not assume that the presence of verdant plant life and clean water makes them safe. These forests, fields, and valleys are often rife with the fiercest and most dangerous animals to survive, and some give testament to the adaptability of the Twist virus, which jumped from species to species in unprecedented form.
The remains of humanity's golden age litter the landscape, in the form of decaying villages, towns, and cities and the old highways and interstates still crisscross the open spaces. Some of these places were brought low by A-Day, others have simply been abandoned by their former occupants. While these ruins can be great locations to scavenge for useful resources and supplies, they are also likely to have attracted other humans, which can make them just as dangerous as anywhere else.
WEATHER AND ENVIRONMENT
"AMONG FAMOUS TRAITORS OF HISTORY ONE MIGHT MENTION THE WEATHER". -Ilka Chase
ACID RAIN
HEAT AND COLD
RADIATION
Environmental radiation is generally divided into two levels by their danger to organic life: Low and High.
Low Radiation
High Radiation
HUNGER AND THIRST
LANDMARKS
"LEGACY, N. A GIFT FROM ONE WHO IS LEGGING IT OUT OF THIS VALE OF TEARS." –Ambrose Bierce
THE D

.O.C

BADLANDS

The D.O.C., as the former District of Colombia is commonly known, is rumored to be filled with countless former national treasures and famous artifacts of the old world. Unfortunately, few if any are willing to risk making a trip there due both to the harshness of the landscape around the ruined city, and rumors of heavy SecPat contingents and other more mysterious dangers. No one ever knows anyone who can substantiate these rumors: they always come from a friend of a friend or a mysterious traveler. Nonetheless, stories of the treasures and riches waiting in the D.O.C. abound, and they have to come from somewhere, right?
THE MIRRORED WASTE
This easily recognizable area consists of a vast swath of land (hundreds of square miles) stretching south and west from the North Atlantic coast, inward towards the heartlands. The Mirrored Waste was so scorched by atomic heat that the very dirt and dust of the surface fused into a semi-reflective glass-like substance. While not terribly radioactive (for the most part) it is also especially unfriendly to life, with no known native plant life, and no discovered sources of water.
THE MONUMENT
Deep within the Mirrored Waste stands a solitary and massive rectangular block of cement known to travelers as the Monument. Despite its unmarred surface and flawless right angles, it serves no known purpose, and appears to be completely solid with no visible windows or doors. Despite the dangerous predators rumored to live in its shadow, the base of the Monument has become a sort of pilgrimage destination for dedicated graffiti artists.
ASH VALLEY
On of the best known Green Zones, this relatively lush valley rests between the Sleeping Peaks, two large, young, but currently dormant volcanoes. According to local legend, the powerful explosions of A-Day triggered enough tectonic instability to result in the birth of two new volcanoes, and the ash and minerals spewed from the earth during their rise is what makes Ash Valley so fertile. The Saints possess a great deal of influence here, due to both its proximity to Zion, and the providential nature of its existence.
THE BLACK FOREST
Perhaps the largest Green Zone in what's left of the former northeastern United States is the Black Forest, which extends throughout much of northern New England and up into Canada. Largely unexplored, the forest is generally avoided by travelers and homesteaders due to rumors of Yetis – though apparently possessed of some intelligence, these mutated bears are not generally known to be friendly.
THE METRO
The greater New York City metropolitan area has become a real concrete jungle in the years since the fall. Ravaged by the Twist, rocked by bombs, and flooded by the melting of the ice caps, the Metro is vast, dangerous, and filled with all the riches a Wastelander could hope for. Of course, the roving gangs, crazed death cults, hidden settlements, and Nueva York scavenger parties might not think too highly of outsiders running around on their turf.
CIVILIZATION
"CIVILIZATION IS A MOVEMENT AND NOT A CONDITION, A VOYAGE AND NOT A HARBOR." –Arnold Toynbee
Continue to New Ways to be Human.
Back to Main Page.